Profile
Build Green is an engineering consulting firm based in Christchurch, New Zealand. We specialise in the design, construction and performance of environmentally sustainable buildings.
The team at Build Green are committed to reducing energy consumption, reducing operating cost and increasing comfort for the occupants in your building.
Anne Mackenzie is the principal of Build Green. Anne has a strong technical background with more than 20 years engineering experience. Anne delivers complete project development from the conceptual, planning and design stages through construction to final completion.
Anne has extensive building industry knowledge in preparing specifications, ensuring compliance with building codes and carrying out civil engineering design. Anne also has a comprehensive understanding of energy efficiency, sustainable development and innovative environmental solutions.
As an invited speaker, Anne Mackenzie presented a paper on "System, Product & Building Labelling – Cooling & Refrigeration" at the Chartered Institution of Building Services Engineers (CIBSE) "Building Sustainability – Value & Profit" international conference held in Edinburgh, Scotland in September 2003.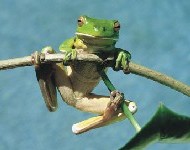 "It isn't easy being green"
Image Credits
Logo image copyright © 2005 Build Green.
Build Green thanks all the photographers who have allowed us to use their images:
Copyright © 2005-2011 Build Green®